Workforce
---
Strengthening the Workforce
The Greenwood-Leflore-Carroll area delivers a reliable, trainable workforce to employers. Our local manufacturers boast a turnover rate of less than 3%.

Mississippi Delta Community College, the Capps Center, and Holmes Community College administer industry-specific training to meet the needs of our local companies. Whether you are expanding, diversifying, or upgrading your technology systems, we are committed to saving you time and money by providing employees who are highly trained to do the job.

The Mississippi Development Authority and the Delta Workforce Investment Area can help simplify the workforce training process by utilizing one-on-one interaction with local employers to identify their needs and challenges and pursue opportunities in a coordinated, strategic manner focusing on job retention and expansion.
Workforce Profile
Our labor shed consists of the following 13 counties located in Mississippi:
Attala County
Bolivar County
Carroll County
Grenada County
Hinds County
Holmes County
Humphreys County
Leflore County
Montgomery County
Sunflower County
Tallahatchie County
Washington County
Yazoo County
The labor shed is based on this data which shows where people drive into Leflore County to work: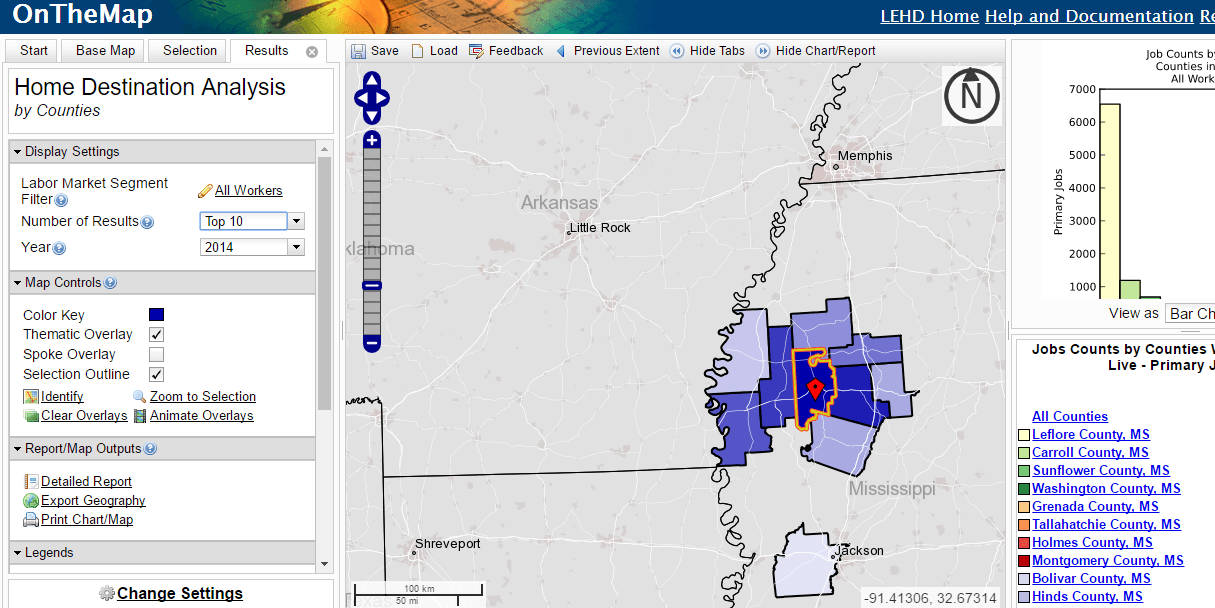 This area has the following skilled workers:
7,505 Registered Nurses
4,699 Truck Drivers
4,164 Laborers and Freight, Stock, and Material Movers, Hand
3,989 General and Operations Managers
3,527 Unskilled labor working via Temp Agencies
3,071 Military Occupations
2,153 Farmworkers and Laborers
2,116 Team Assemblers
1,418 Construction Laborers
1,363 Automotive Service Technicians and Mehanics
1,009 Carpenters
971 Packers and Packagers, Hand
857 Helpers, Production Workers
753 Medical and Health Services Managers
751 Industrial Truck and Tractor Operators
732 Welders
707 Meat, Poultry, Fish Cutters and Trimmers
678 Physicians
671 Computer User Support Specialists
649 Electricians
553 Plumbers, Pipefitters, and Steamfitters
545 Inspectors, Testors, Sorters, Samplers, and Weighers
528 Packaging and Filling Machine Operators
462 Computer Systems Analysts
418 Construction Managers
413 Industrial Machinery Mechanics
393 Sales Managers
366 Civil Engineers
357 Cutting, Punching, and Press Machine Operators
345 Food Service Managers
303 Network and Computer Systems Administrators
293 Sheet Metal Workers
286 Computer and Information Systems Managers
260 Machine Feeders and Offbearers
230 Civil Engineering Technicians
222 Machinists
218 Maintenance Workers, Machinery
214 Logging Equipment Operators
206 Computer Programmers
203 Agricultural Equipment Operators
197 Structural Metal Fabricators and Fitters
188 Industrial Production Managers
186 Sewing Machine Operators
185 Human Resource Managers
183 Industrial Engineers
177 Electrical and Electronic Equipment Assemblers
172 Software Developers, Applications
163 Environmental Engineers
163 Coating and Spraying Machine Operators
160 Electrical and Electronics Engineering Technicians
146 Transportation, Storage, and Distribution Managers
145 Architectural and Engineering Managers
143 Marketing Managers
133 Mixing and Blending Machine Operators
132 Mechanical Engineers
120 Cooling and Freezing Equipment Operators
113 Electrical Engineers
113 Electronics Engineers
109 Crushing Machine Operators
108 Coil Winders, Tapers, and Finishers
108 Paper Good Machine Operators
103 Computer Hardware Engineers
101 Software Developers, Systems Software
99 Extruding Machine Opeartors
90 Web Developers
87 Logisticians
81 Chemical Plant and Systems Operators
80 Chemists
68 Labor Relations Specialists
64 Information Security Analysts
62 Grinding, Lapping, Polishing, and Buffing Machine Operators
61 Sawing Machine Operators
60 Molders, Shapers, and Casters
60 Petroleum Engineers
58 Plating and Coating Machine Operators
51 Roustabouts, Oil and Gas
51 Multiple Machine Tool Operators
49 Molding Machine Operators
48 Millwrights
48 Woodworking Machine Operators
43 Foresters
29 Tool and Die Makers
Add to Report
View Report
As you navigate our website, you can use the "Add Page to Report" button to add any page or property to a custom report that you can print out or save.